Pesticide's trade name: CHLORFERAN 240SC
Component: Chlorfenapyr … 240 g/L + Additive… 760 g/L
Product's advantages:
- Contact, strong-ingestion and deep absorbing.
- High effect on rice leaf folder and stem borers which resisting other pesticides.
- Quick and long-time effect.
Mode of action:The chlorfenapyr is a pro-insecticide-miticide. This compound uncouples oxidative phosphorylation at the mitochondria, resulting in the disruption of ATP production, cellular death.
This active ingredient has used to control other pesticides resistance insect.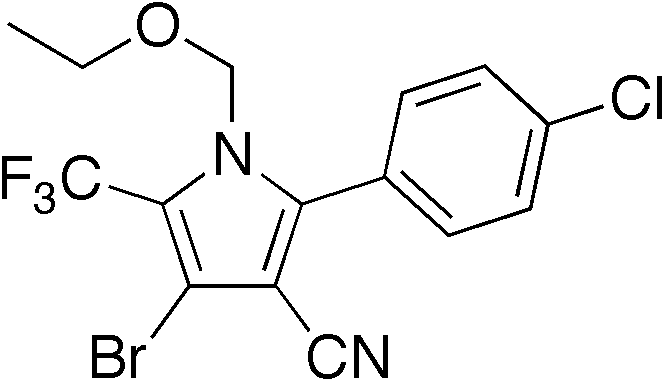 Structure of Chlorfenapyr
Packing:15ml or 20ml for sachet; 60ml, 100ml or 200ml for bottles.
Pests:
Result on the field: We has done many experiments in the field. As the result, the mortality rate of rice leaf-folder larvae is more than 95% after 5 days spraying CHLORFERAN 240SC.
Crops

Pest

Dosage and Method of application

Rice leaf-folder, stem borers, thrips, rice mite (Steneotarsonemus spinki Smiley)

Spray volume: 320 Liter for one hectare.

Spraying when the larvae is stage 1-2.

 

Worm(Helicoverpa armigera)
2017 © ngocyen.com.vn - All Rights Reservice -